Biscoff Fudge Centered Chocolate Chip Cookies
Deliciously thick and chewy chocolate chip cookie bars stuffed with a creamy Biscoff fudge centre. The fudge centre creates a whole new cookie - crisp and crunchy on the outside with a gooey centre.

These Biscoff Fudge Stuffed Chocolate Chip Cookies are so thick, chewy, and crispy, while the centre is a soft and creamy Biscoff fudge.

They pair so wonderfully together – you'll love them, and you'll want to share them with everyone! Or not. 😉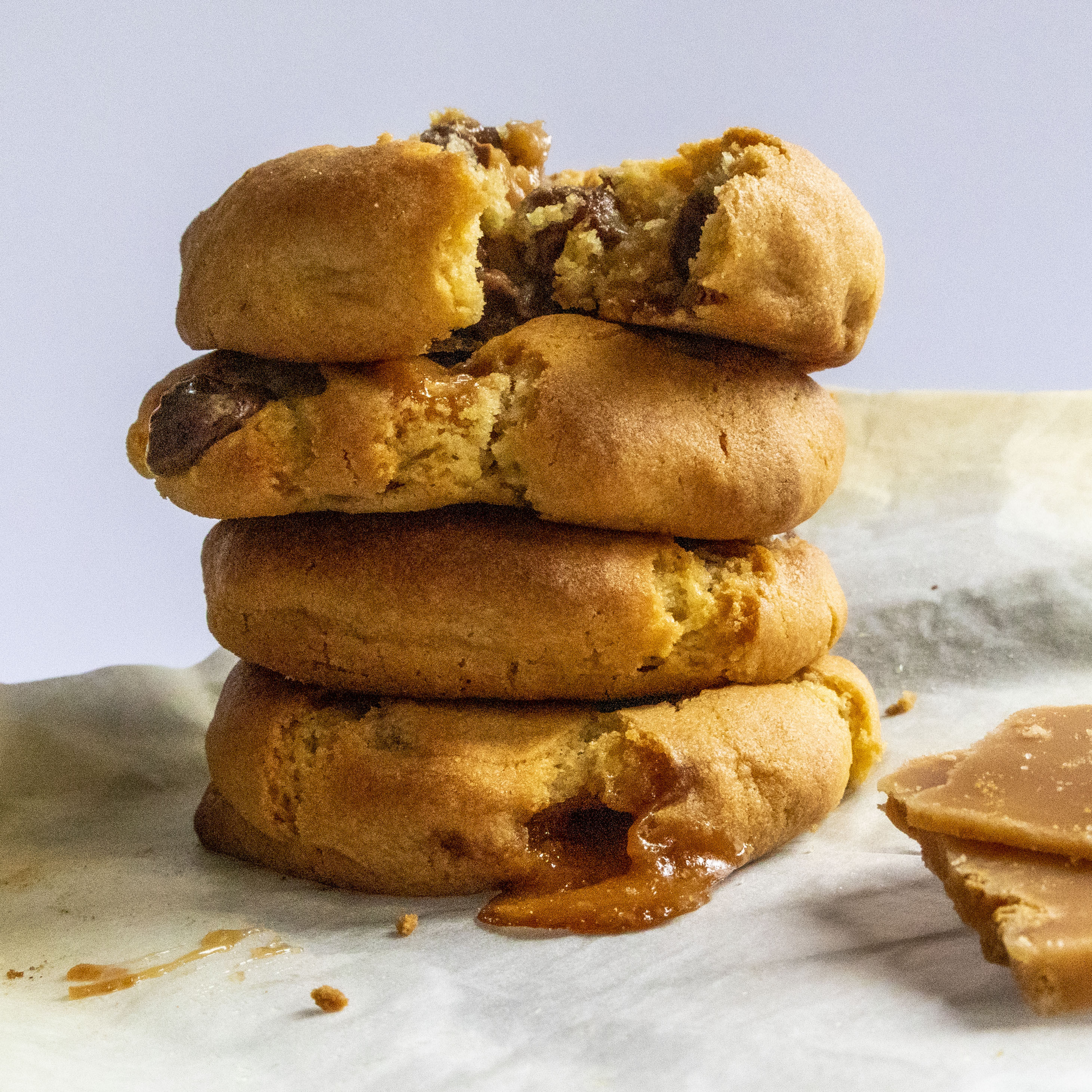 Serves: 12 Cookies
Ingredients
Biscoff Fudge
250g plain/all-purpose flour
1 teaspoon baking powder
1/2 teaspoon baking soda
1/4 teaspoon salt
115g unsalted butter, melted
100g light brown sugar
50g caster/granulated sugar
1 large egg
2 teaspoons vanilla extract
175g chocolate chips
Instructions
Preheat the oven to 180C/350F/Gas 4. Line a baking pan with parchment paper. Set aside.
Mix together the flour, baking powder, baking soda, and salt. Set aside.
Whisk together the butter and sugars until combined. Add the egg, and vanilla, and mix until combined. Add the dry ingredients, and mix until just combined. Fold in the chocolate chips.
With your hands, take a small handful of dough, flatten in palm and place a slice of fudge in the centre. Fold the cookie dough over the fudge and form a thick disc.
Place your fudge centred cookies on to a baking try and freeze for 10-15 mins.
Once frozen, take out of the freezer and place in the oven - this allows the cookie dough to keep the fudge in the centre and not move when baking.
Bake for 15-20 minutes or until lightly golden brown on top. Allow to cool for a few minutes before moving to a wire rack.
NOTES: Cookies stay fresh, stored in an airtight container, at room temperature or in the fridge for up to 1 week. They also freeze well for up to 3 months. Thaw overnight in the fridge before serving - Warm up in the oven/microwave and serve with a scoop of your favorite ice cream.
Products Mentioned in this Post
Posted on: 26/03/2021, 00:00