Introducing Sunday Roast Cheddar
Posted on: 28/09/2020, 15:00
Sunday Roast Cheese

The newest addition to our cheese range, Sunday Roast! Lots of people love a good Sunday Roast, so we wanted to create something that is influenced by the traditional British meal! This cheese is packed of delicious herbs.
What is it?

Creamy Cheddar cheese infused with Garlic, Rosemary and Black Pepper. Sunday Roast brings all the best herb flavours that you'd add to your Roast dinner but in a cheddar cheese.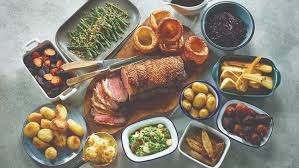 Serving Suggestions

Granted, the name Sunday Roast may make it hard to think about what to use this cheese for (apart from with meat and roast potatoes of course), so here's some recipe inspiration to help you out!
1-As a burger topping- get yourself some onion rings, bacon or whatever toppings you like to load your beef burger with. Don't forget to melt some of this delicious cheese on the top.
2- Dauphinoise potatoes- Generously grate this cheese over your potatoes before you put them in the oven! You'll end up with deliciously herby flavoured potatoes and a crispy cheese topping too.
3-Cheese and potato pie- make your usual mid-week meal a little bit more exciting by adding this cheese to it instead. A family favourite that everyone is bound to enjoy.
4-Cheesy Garlic Bread- bring some extra flavours to your cheesy garlic bread by adding Sunday Roast cheese to it! It'll be packed with garlic and added hints of cheese, black pepper and rosemary.