Jam Roly Poly is here! At last, Britians favourite traditional dessert in a cheese!

At Chuckling Cheese HQ we've been awaiting the arrival of this sweet, yet savoury cheese. Its sweet flavour brings 80's nostalgia with a twist. Now you can pair a classic Jam Roly Poly flavour with many other savoury foods, from a Jam Roly Poly super salad to this Jam Roly Poly Cheese Swirls - The sky is the limit with this sweet savoury combo.

Get your paws on this delicious cheese and whip up an autumnal classic!


[Scroll down for recipe]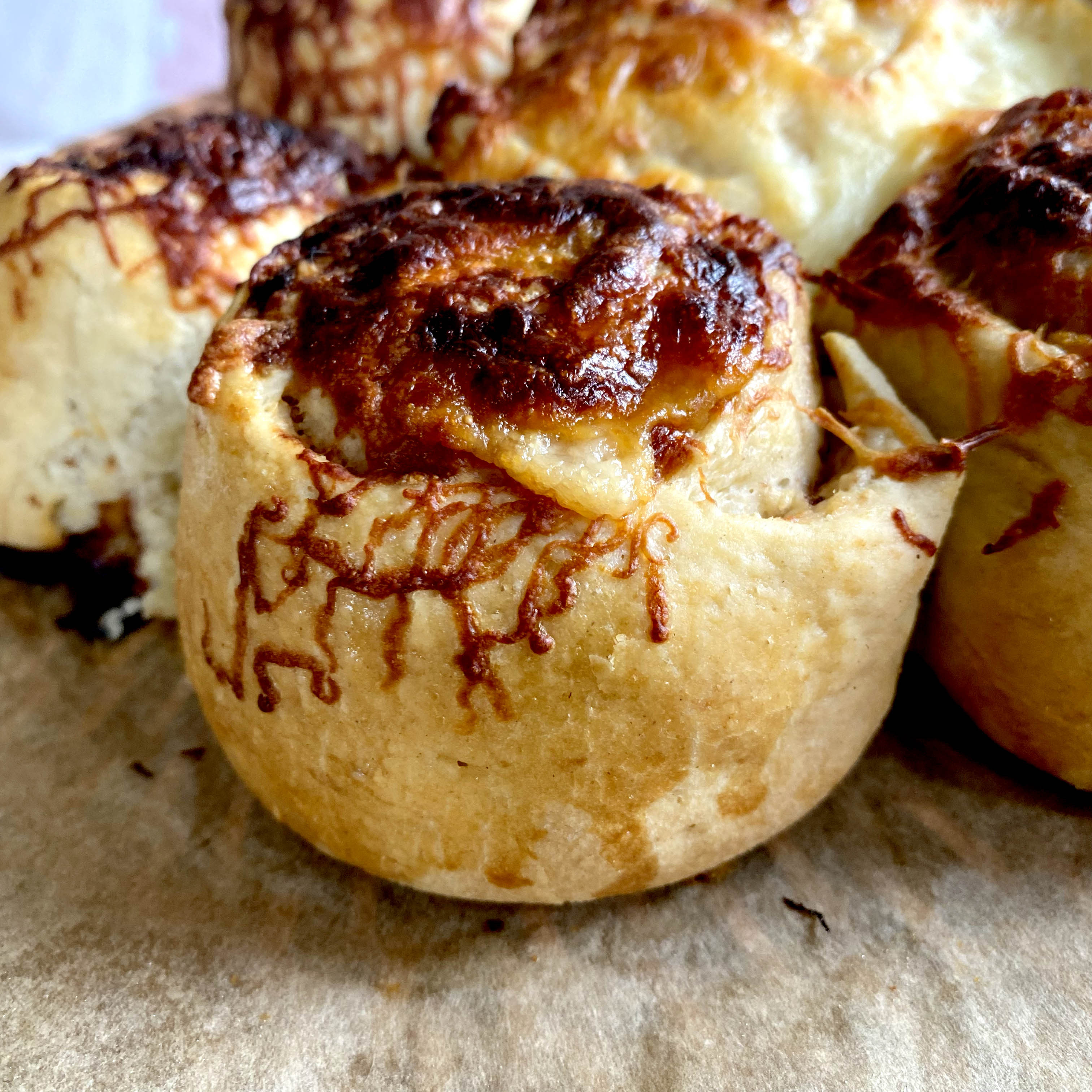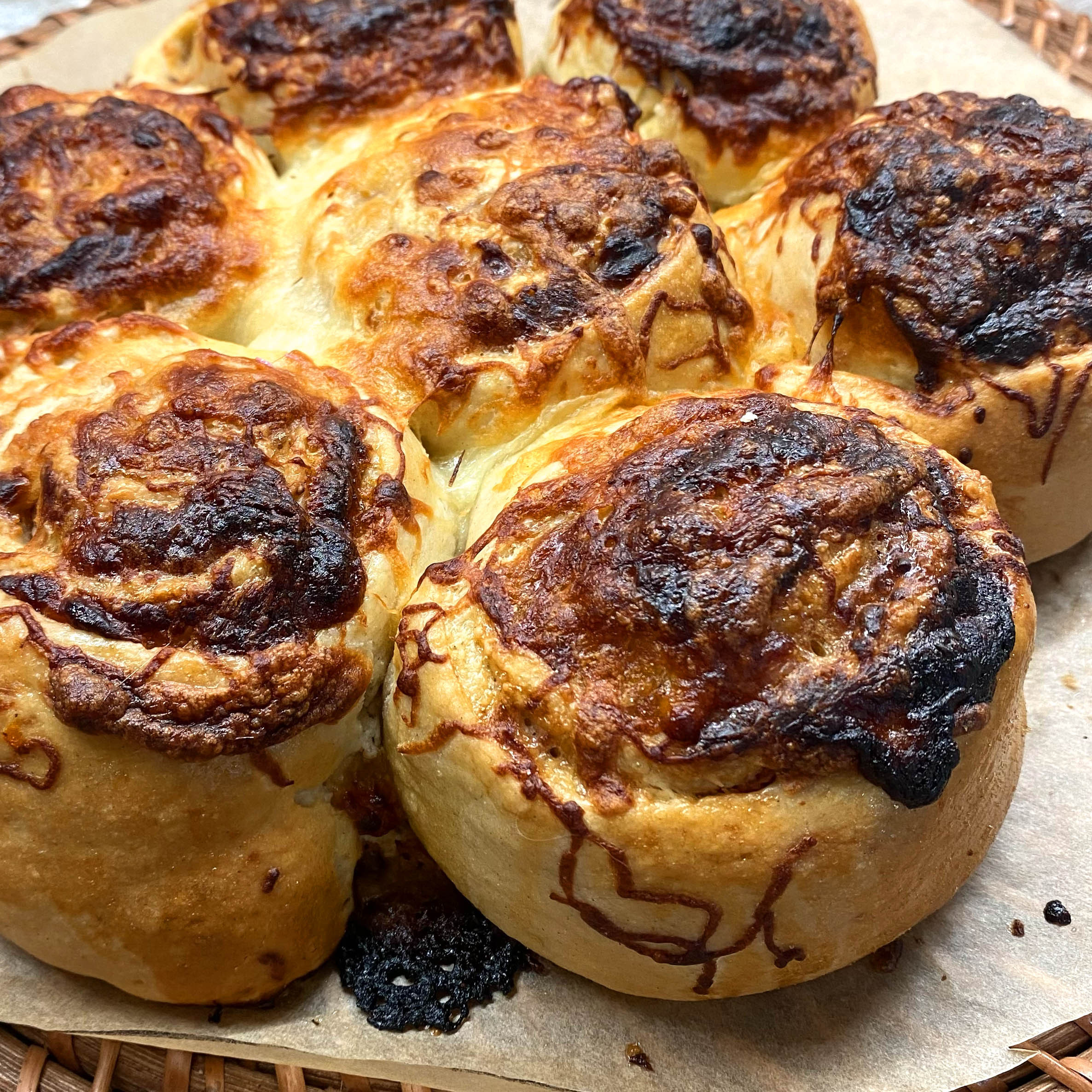 You will need:
Rolling pin
30cm x 30cm tray/ pizza tray
Pastry brush
Parchment paper
Cling Film

Ingredients
whole milk - 175ml
dried active yeast - 2 tsp
caster sugar - 1 tsp
plain flour 350g, plus extra for dusting
Egg - 1, beaten, plus 1 beaten for glazing
unsalted butter - 50g, very soft, plus extra for the tin
ready-grated Jam Roly Poly - 100g
Grated Mozzarella - 50g
Strawberry Preserve - 70g

Directions:
Heat the milk to just below a simmer then cool to warm. Whisk in the dried yeast and caster sugar, and leave in a warm place for 10 minutes or until a thick foam has formed on top of the milk.
Tip the flour into a large mixing bowl and stir in 1 tsp salt. Make a well in the middle of the flour and pour in the yeasty milk mixture, beaten egg and softened butter. Stir until the mixture is combined and comes together into a rough dough.
Tip onto a lightly floured work surface and knead for 5 minutes until the dough is smooth and elastic. Form into a ball, put in a bowl and cover with oiled clingfilm. Leave in a warm place for 11/2 hours.
Heat up Strawberry preserve until warm - not boiled!
Turn the dough onto a lightly floured work surface and knead gently for 30 seconds. Roll into a rectangle measuring about 30cm x 50cm.
Turn it so the longest side is nearest to you, then spread ¾ of the warmed Strawberry preserve over the dough, leaving a 1cm border around the edges. Scatter over the grated Jam Roly Poly Cheese.
Roll the dough up, starting with the long side closest to you and keeping the roll even. Cut into 7 equal pieces and put cut-side up in a well-buttered non-stick tin or baking tray ( roughly 20cm in diameter ). Cover the buns loosely with oiled clingfilm and leave them in a warm place for 40 minutes to prove. Heat the oven to 180C/fan 160C/gas 4.
Brush the swirls with beaten egg and sprinkle with a little more cheese. Bake for 35 40 minutes or until golden brown. Cool the buns in the tin for 15 minutes before removing them from the tin, then brush liberally with the melted butter.
Products Mentioned in this Post
Posted on: 17/09/2021, 07:00