Our Advent Calendar - Merry Cheesemas!
Posted on: 26/11/2021, 00:00
How it began…
Back in December 2019, we launched our first Cheese Advent Calendar, which was brought to our Chuckling Cheese customers as a new concept. Directors, Emma and Stuart, soon discovered how popular this advent calendar would be going on to make a new design each year.
Since then, here at The Chuckling Cheese Co, we have worked hard to ensure each year the advent calendar evolves to bring something new fun, and cheesy to the Chuckling Cheese Community.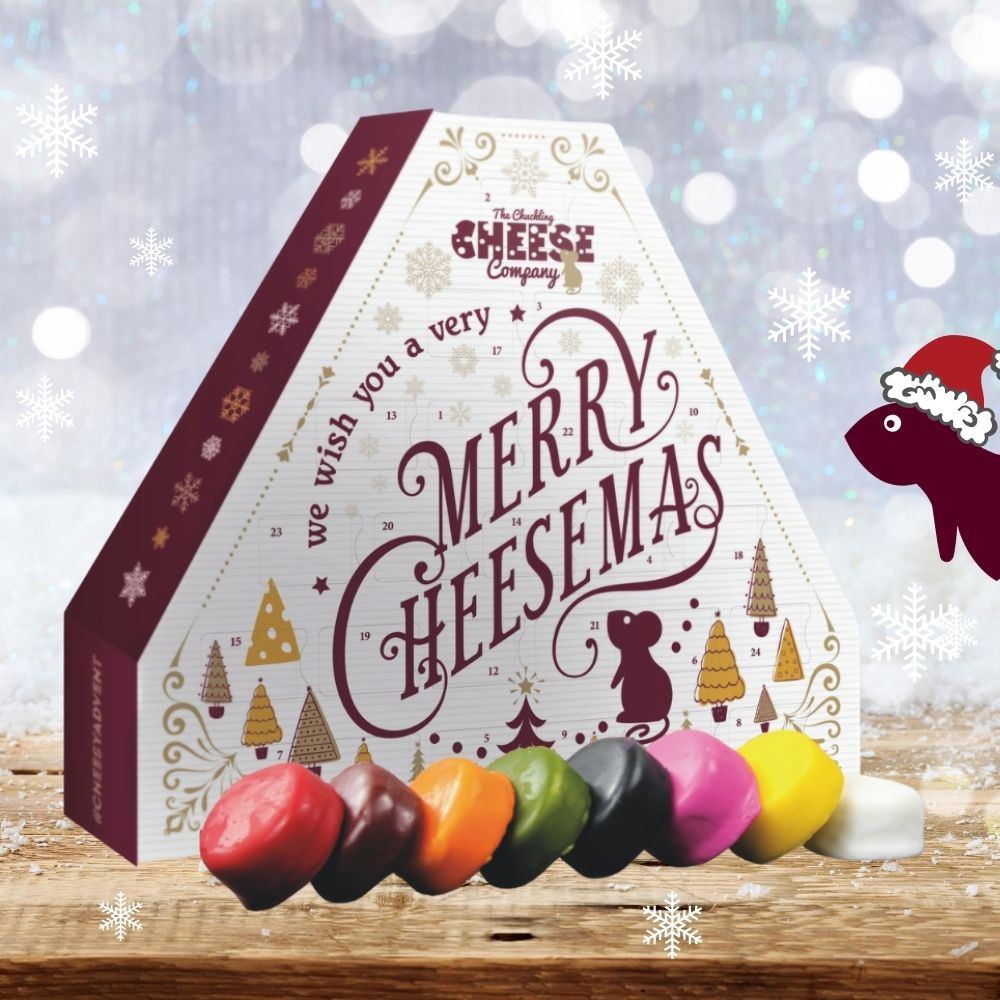 This year, we have gone down a different route to bring together a brand new advent calendar, where we have listened to our loyal customers and created the ultimate box of cheesiness.
What's in the Advent Calendar?
This year's advent calendar will cover 24 days until Christmas, which consists of 8 flavors of cheese across 12 days, which will be accompanied by 6 days of mini crackers and 6 days of mini chutneys! Of course, something new and delicious every day before Christmas!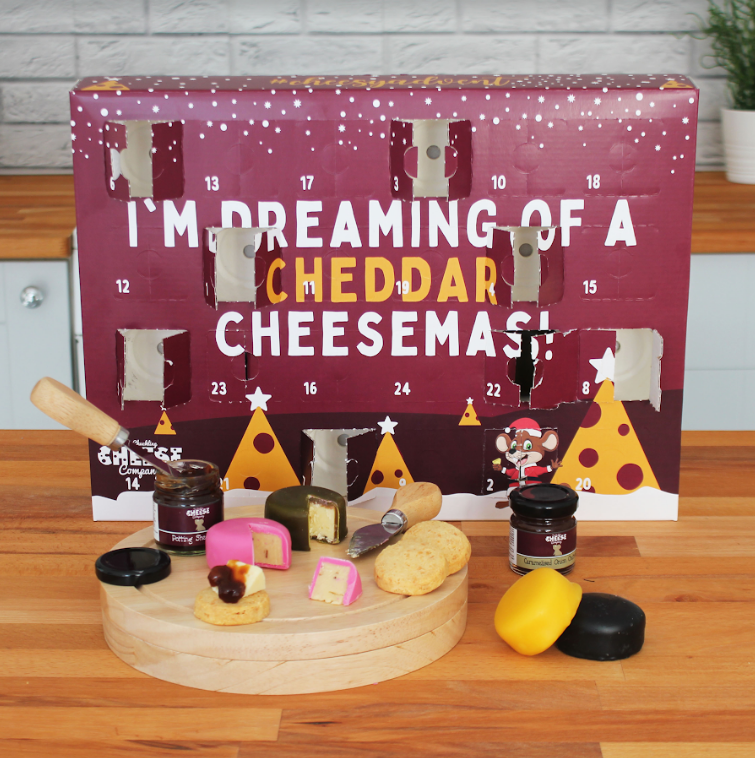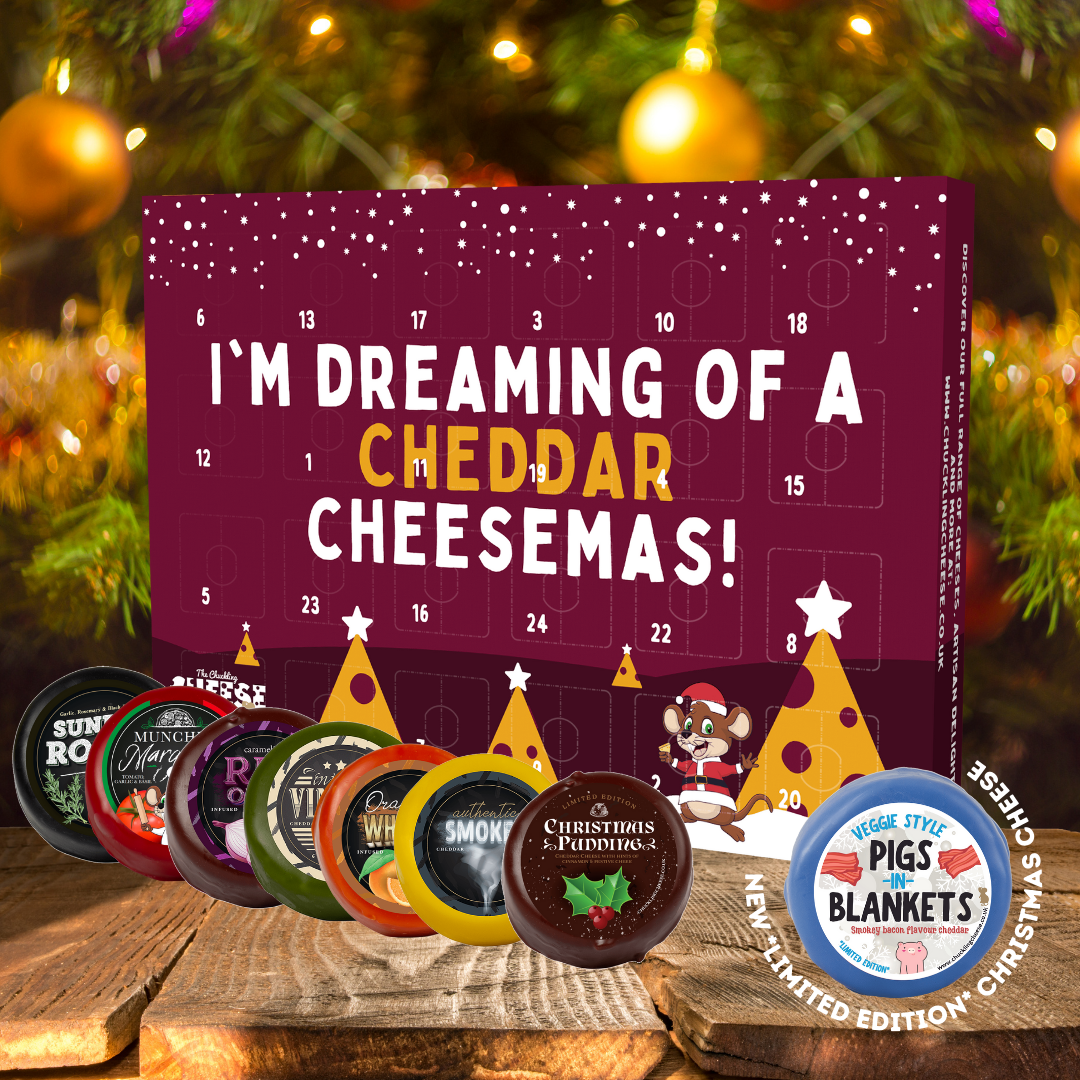 How many Cheeses?
There are 8 pieces of cheese over 12 days…
Smoked - A naturally oak-smoked cheese with a hint of paprika to give a subtle sweet edge.
This is what customers thought of our Smoked Cheddar...
Vintage - Matured for 3 and a half years, intense and tangy.
This is what customers thought of our Vintage Cheddar…
Red onion - Made with homemade caramelized red onion, sweet and savory.
This is what customers thought of our Red Onion Cheddar…
Margarita Pizza - Sun-dried tomato, basil, and garlic flavor cheddar, pizza inspired!
Orange and Whiskey - A homemade sweet orange marmalade, with a dash of whisky.
This is what customers thought of our Orange & Whisky Cheddar…
Sunday Roast - A Sunday dinner-inspired cheddar!
This is what customers thought of our Sunday Roast Cheddar…
*Limited Edition* Christmas Pudding - All flavors of Christmas packed with fruit!
*Our Brand New Cheese* Pigs & Blankets - To Be Launched on the same day as our Advent Calendar… Get ready!

All these cheeses are our BEST selling flavors, Christmas is just around the corner, it'll come closer just take a bite of some cheese. Each Cheese (40g)

What about the biscuits and chutneys?

Firstly, the biscuits are cheddar shortbreads (10g) Chutney are potting shed and caramelized onion (35g) Have your fill of cheese, crackers, and chutney during the advent countdown.

This calendar must be kept refrigerated.

Is the box recyclable? Yes, you can recycle this box and inner tray.

Directors Quote:

Our Advent Calendar is one of the many ever-popular products we stock and we thrive to improve each year. We hope you enjoy 2021's Cheese Advent Calendar with new additions and we would like to take this opportunity to thank all our community for the support throughout covid.

Inquires:

For any further information, please contact: marketing@chucklingcheese.co.uk

Our Retailers:

Amazon - The Chuckling Cheese Company

Boroughbox

eBay

Etsy

Friend of Joules

OnBuy

Foodmarket

Produce market

Yumbles